How to Use Grease Makeup? Comprehensive Guide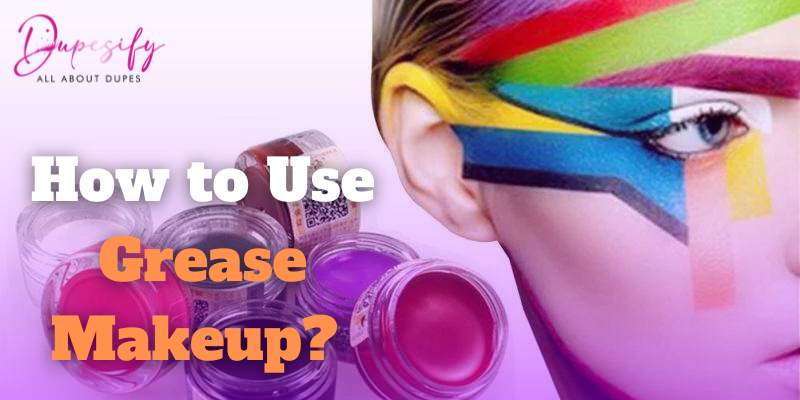 Searching for long-lasting makeup is no more difficult these days. Wearing makeup for a long time can only be possible by using oil-based makeup that stays in place and never fades off quickly. Grease makeup is one of the kinds that provide you full coverage even when you are facing sharp yellow camera lights. So, How to Use Grease Makeup?
Tidbits: Grease makeup is usually done for stage performances. Due to the oily formula, this makeup provides a waterproof finish; the oily consistency forms a layer above open pores and prevents perspiration even after exhaustion.
Last week, I went to a themed birthday party and needed to transform myself into a clown. I followed several instructions and precautions in using this makeup. In this post, I will discuss How to Use Grease Makeup?
How do you Apply Grease Paint? Tricks
I use grease paint with certain other things that help in creating a long-lasting and professional look. These things are considered supporting pillars in wearing this type of makeup. Here, I will give you a description of how to apply grease paint makeup.
Paintbrush
Powder sock
Charcoal pencil
Clean And Dry Face
I started with a clean and dry face and chose not to wear moisturizer as it locked inside the hydration I did not want. 
Apply Makeup Primer
Then, I went for a primer that kept my makeup in place for longer. Using a primer before the application of grease makeup prevents clogged pores.
Grease paints the best work on dry surfaces. Because they have oils that need no moisturization, they automatically produce one.
Use Charcoal Pencil / Paintbrush 
I used a charcoal pencil to outline my features and painted it white to enhance the eye area. To look like a clown, I used a paintbrush for my eyes and started applying paint to my eyes carefully; and eye area was minimum to paint, so I used a brush to cover it with the lightest color.
Use Quality Sponge For Even Finish 
I applied wet, greasy makeup in a white color all over my face. As I wanted to cover the large area of my face with a light color, I used a good-quality sponge. If I used a brush, it left creases on my face and did not give me that finish, and I was putting all the colors before I set it with a powder.
I enhanced my facial features using a charcoal pencil and outlined them to give them a canvas of a clown. I focused on the muzzle, applied pink to all the visible areas of my bare skin, finished my smile using a black charcoal pencil, and took out a powder sock and dust powder on my face. 
Tidbits: A Powder sock is a cotton sock filled with baby powder to set the grease paint in its place. In grease makeup, the baby talc works the same as a professional one. After the makeup, you can dust the Setting powder or apply it in phases.
Use Setting Powder 
I applied setting powder on my wet face to give it a matte and smooth finish, and this makeup is easily transferable and requires a professional setting powder to give it a matte finish. It is the setting powder that makes the look excellent or makes it a miserable failure.
After it, I immediately realized that the color had lost its pigments. Then I used a hack and sprayed a few drops of glycerin to set my makeup and, at the same time, give it a shiny appearance.
Let it Dry/ Go Layer By Layer
Grease makeup has oils in it, and colors may merge. I applied one layer and let it dry before painting another layer. Then I changed into a clown costume and, with the help of adhesive glue, pasted the clown's signature nose to complete the whole look.
Is it Safe to Apply Grease Makeup? Discuss.
Applying grease makeup to highlight the character's personality and actions on the stage. Wearing it causes no damage to the skin and pores. As I have discussed its use, it is obligatory to mention the pros and cons.
Pros 
Grease makeup comes in cans.
These are easy to apply, primarily in larger areas.
It is sweatproof and easily set on the skin like a moisturizer.
Colors instantly blend and produce a gradient effect.
Cons 
Detailing is not possible with grease makeup.
It always dries.
Layering is not possible using grease makeup.
It produces a sweatproof effect that results in irritation to the skin.
Grease makeup vs. Cream makeup
Grease makeup is an oil-based product that instantly gives you full coverage. It is comfortable to apply on dry skin. Moreover, grease makeup gives you vibrant shades that provide glow and shine to the skin. The best part of choosing this makeup is that it comes off easily, leaving skin moisturized and hydrated.
Cream makeup is a water-based product that needs more product for its application. It means more and more layering is required for buildup. Makeup sponges can apply cream products as they can carry an ample amount of product.
How do you get grease makeup to stay on?
Before applying this unique makeup, it is obligatory to mold the makeup routine so that makeup automatically stays on the skin and does not fade away. You can set Grease makeup with the powder to keep it in its place.
 If the color loses its pigment, it is recommended to use color powders to enhance the overall shades of colors. It is necessary to apply primer before application to make it intact. 
Does grease makeup come off?
Removing greasy makeup is less tiring when you choose the right one from the makeup removers. I advised you to use baby oil, wipes or rubbing alcohol to remove grease makeup. There are many advantages to using one because baby wipes are gentle on the skin, prevent irritation, and oil readily mixes with the makeup oil and comes off easily.
You can even remove alcohol-activated makeup by following these pro tips: How to Remove Alcohol Activated Makeup?
How long does grease makeup last?
Good quality grease products last for about 3-4 years when stored in a cool and dry place unopened. However, their shelf life is limited to only 12 months after opening it. It is recommended to use specific makeup products before their expiration; otherwise, it results in bacteria growing into them.
Does grease makeup give you acne?
Grease makeup is an oil-based product that instantly blocks the layers of pores. In that case, it may cause breakouts and acne. I do not recommend wearing it to people with acne-prone skin, as excessive oil may cause damage.
Final Thoughts
Dealing with and using grease makeup is not everyone's cup of tea. Additionally, it is imperative to note all the pros and cons of this type of makeup before wearing it. For your ease, I have described every step of using grease makeup so that it will become easy for you guys to wear it for a long time and create exceptional looks.